Align Master of Science in Computer Science
Video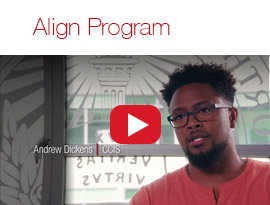 Northeastern University's Align program gives students without a background in computer science (CS) a direct path to an MS in computer science and a rewarding tech career. Gain professional computer science experiences and connections in the center of the Silicon Valley business corridor, the world's scaleup capital and center of funding activity for the tech industry.
Break into tech with any background
You don't need a background in tech to have a future in it. Break into tech with Align, a program designed for motivated students and professionals with a bachelor's degree in any discipline. Earn your master's in computer science from Northeastern on the Silicon Valley campus, where diverse and unexpected ideas are encouraged.
Attend a Break into Tech Event
Curious about whether Align is right for you? Join this free 1.5-hour workshop (virtual or in-person) on how computer science touches our world. You'll even get to try out a project with peers from diverse backgrounds like you.
Align student community
Align students come from 100+ disciplines, including history, business, biology, political science, and more. The student body is more diverse than most computer science programs.
54% female vs. the national average of 27.8% female (Fall 2021)
18% identify as a race or ethnicity historically underrepresented in the tech industry vs. the national average of 5.1% (domestic students, Fall 2021)
Source: 2021 Taulbee Survey
Gain experience in the heart of Silicon Valley
If Silicon Valley were a country, its GDP would be among the top five in the world. It's the world's center of funding activity for tech, with the highest concentration of scaleups in the world.
Home to 7,894 scaleups, comparable to an entire continent (Europe has 9,256). A "scaleup" is a high-growth company (20% or more in employment or turnover growth for at least two years, starting with a minimum of 10 employees).
Innovation presence of 319 of the Fortune 500/Forbes 2,000 companies
Known for a steady stream of world-changing innovations, like personal computers, the internet, social media, artificial intelligence, mobility, and genomics
Source: Mind the Bridge, 2021 Report
The Silicon Valley campus is located in downtown San Jose, which is consistently ranked as the #2 city in the U.S in the Clean Tech Leadership Index by the Clean Edge Group.
Hold a co-op or internship in an industry-preferred program
Khoury College of Computer Sciences can help connect you with a paid co-op or internship, and project opportunities with the College's 700+ partners, including established corporations and unique startups, nonprofits, and organizations.
Align MSCS prepares you to meet "preferred" qualifications for job postings with top companies. Many companies offer co-op students full-time employment after graduation.
Zoe Ding (Align MSCS '21) took full advantage of the opportunity to explore by completing three different internships during her time in the Align program.
Read more
Sample co-op employment partners in the Bay Area
Google, Amazon Robotics, Meta, LinkedIn, Snowflake, Apple, TikTok, Coursera, Argo AI, and Mercari
On either side of your work experiences, you'll be learning industry-relevant CS skills in a program supported by corporate and philanthropic partners like Google, Dell, Travelers, Facebook, and Pivotal Ventures. Your co-op is closely integrated with the course curriculum and advising system. Graduate co-op faculty within the Khoury College will support you in preparing for and succeeding in your co-op.
Learn more at a drop-in session
Career Outlook
Employers are actively looking for computer scientists with diverse backgrounds in law, music, biology, business, physics, education, biomedical science, language, and more. Advance in your current field or pivot to a new career. The region offers an extremely favorable employment outlook in tech – especially for software engineers:
Wage growth of +16.6% for tech positions in the past 5 years (CBRE Tech Talent 2021)
7,000+ open positions in software engineering in January alone (Glassdoor, Jan 2022)
4,200+ NU alumni connections in the Bay Area
Develop the computer science skills employers want
You'll begin the program with a two-semester introductory sequence designed specifically for students without a background in computer science. Your cohort will be made of students like you who are coming from outside the field. You'll then be able to choose from a range of electives—such as Artificial Intelligence, Computer-Human Interface, Graphics, Software Engineering, and more—in important breadth areas.
Semaa Amin (Align MSCS '21) participated in an award-winning project called Chrysalis that took aim at improving health outcomes through virtual reality.
Read more
Key Silicon Valley industries
The Silicon Valley ecosystem is moving towards a focus on deep technologies like artificial intelligence, information security, cloud, and blockchain that can be applied across industries. In fact, 15% of total scaleups now target multiple industries. These technologies have applications in areas like health, finance, mobility, and energy.
Opportunities with emerging and established entities in the region abound, including Google, Tesla, Apple, Adobe, eBay, Facebook, Paypal, Cisco, and more Fortune 500 companies than any region outside New York City.
Life in Silicon Valley and San Jose
With 300 days of sunshine, 16,000 acres of parks and green space, and a culturally diverse community, San Jose is a great place to live. Make sure to enjoy nearby ocean beaches, redwood forests, and other neighboring points of interest like Napa Valley, Pebble Beach, Santa Cruz, and Monterey while you're here.
Hear from Our Students
Learn what students are saying about the Align MSCS program.
Faculty
Align faculty are talented computer scientists with real-world connections to Silicon Valley industry. But don't be intimidated. All Align faculty understand the necessary approach to teach graduate-level computer science to beginners—and enjoy doing it. Some faculty have even been through the Align program themselves.
Featured Faculty: Silicon Valley
Alvaro Monge
Visiting Professor, Director of Khoury Programs, San Francisco Bay Area
Alvaro Monge is a visiting professor and the Director of Khoury Programs in the San Francisco Bay Area at the Khoury College of Computer Sciences at Northeastern University. He joins Khoury College while on leave from California State University, Long Beach, where he is a professor.
Before joining Northeastern in 2021, and before his 22-year stint in Long Beach, Monge taught at the University of Dayton. He has worked on applied research projects to improve web content for people with low vision and has assisted marine biologists in studying juvenile white sharks. For three years, he helped create the EngageCSEdu living collection of instructional materials (now a part of the ACM Education Board) that applies research-based engagement practices.
Monge teaches introductory programming, data structures, discrete structures, database systems, and web development. He is passionate about supporting students and has worked on projects supported by Google, the US Department of Education, and the National Center for Women and Information Technology to increase the retention and graduation rates of female and Latinx computing students. To the same end, Monge participated in a 2018 Google program aimed at preparing underrepresented students for tech internships and jobs.
Monge is a member of the ACM Education Advisory Committee and has co-chaired ACM's Special Interest Group on Computer Science Education Technical Symposium.
Expand to view more
Expand to view more
Industry connections of Silicon Valley faculty
Get individualized attention from dedicated faculty. Silicon Valley faculty have backgrounds at companies like: Apple, IBM, Amazon, Twitter, Google and NASA. Their diverse backgrounds include work for NASA, co-founding large multinationals and startups, developing software products, securing U.S. patents, working for advanced laboratories, and more.
Learn More
Minimum GPA for bachelor's degree (any field)
3.0 on a 4.0 scale
8.0 on a 10.0 scale
80 on a 100 scale
Upload a PDF of your transcripts in the application.
Letters of Recommendation
2 academic and 1 professional reference if applying from undergraduate studies
2 professional and 1 academic reference if applying after professional experience
Submit letters via the ApplyYourself system.
Essays
Complete 2 of 3 essay prompts. See online application for prompts.
View the full application instructions.
Request More Information
Loading...
Tuition and funding
Students have the opportunity to pay for the program with a combination of paid, full-time co-op or internship placements, teaching assistant and tutor positions, Federal Student Aid, and scholarships. Learn about financial support.
Align is a total of 44 credits. Check costs per credit here.